---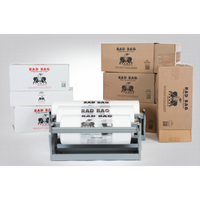 Long before the digital era, healthcare professionals experienced the inconveniences of portable and stretcher x-rays. The time came to develop a new technology which aided in the easy placement of the cassettes under patients, and the protection of your cassettes, technologists, and patients.
On high demand, one radiographer can throw a clump of Rad Bags® in their portable and perform multiple exams across the hospital without looking for a nurse to help lift the patient.

USA Rad Bag X-ray Cassette Covers and Mounts.
WHY USE RAD BAGS?
Smooth Surface:  For the ease of sliding a cassette under a patient in both wet and dry conditions with minimal patient movement.
Prevention:  Bed tears, back injuries to the technologists, and lines and tubes from pulling out when lifting or rolling a patient.
Durable:  Rad Bags® have superior tear strength compared to any other covers.
Protection:  Of cassettes from blood and bodily fluids which can ruin cassettes and can cross contaminate between patients, cassettes and techs.
Recommend Use:  For any portable, trauma, stretcher, post-op and ICU X-Ray exams.
FACTS:
Works great when using positioning blocks.
Easily slides under the patient for positioning and for easy remova
On most beds the use of Rad Bags® alleviates having to lift or log-roll a patient reducing back injuries to the technologists, also reducing lines and tubes from being pulled out.
Over 35 Million Rad Bags® used and continuing.

Available in individual cut boxes and rolls.
Custom size covers available!