---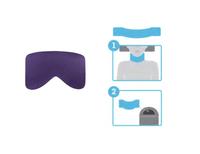 The thyroid, aside from your eyes, is one of the most radiosensitive areas on your body. ScatterGuard's disposable CT thyroid shield is essential for protection against exposure to radiation and provides significant dose reduction.
Listing is for 1 Box (10 Units per Box) 
Model: SG-SHLD-THY
CE Marked: No
Material: Trade Secret blend of Antimony & Bismuth
Protection: Dose Radiation up to 60%, 0.125mm Lead Equivalence
kVp Range: 50kV to 150kV
Allergen Info: Powder & Latex Free
Features: Disposable
UOM Quantity: 10 Units
Protech is proud to offer a comprehensive line of disposable products that protect doctors and technicians alike from the harmful effects of exposure to radiation while reducing the occurrence of biological contamination.
ScatterGuard, a Protech brand, is comprised of disposable Smart Caps (head protection), disposable thyroid collar covers, and disposable ScatterGuard Drapes as well as CT eye and thyroid shields. With complete protection from head to toe, ScatterGuard's broad range of disposable products provides specialized protection with convenience. 
ScatterGuard products are available in three lead equivalences: 0.125, 0.25, and 0.375mm LE. Protection requirements are dependent on the intensity of the beam and cumulative exposure to x-ray. Protech recommends that the base level of protection, 0.125mm LE, be used in all procedures using x-ray or fluoroscopy with additional protection (0.25 & 0.375) being used in cases of prolonged exposure or higher dosage potential.