---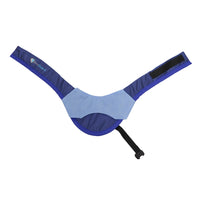 During procedures requiring fluoroscopy, an x-ray protective thyroid collar is worn to shield against the harmful effects of radiation. Thyroid collars absorb sweat and begin to buildup bacteria. Many times, makeup can wipe off on the thyroid collar. ScatterGuard disposable thyroid collars were designed to wrap-around and universally fit any thyroid collar shield. The disposable thyroid collar cover will reduce or prevent the buildup of bacteria, make-up and other debris.
Thyroid Collar Cover Features: 
Convenient and Affordable
Universal Fit
Box of 50

 

hygienic thyroid collar covers
Latex-Free
Disposable
Thyroid Collar Cover DOES NOT offer x-ray protection.